Parque Princesa Sofia, La Linea.
The story behind the Mural
I was contacted by a friend that was part of an association of altruistic people called Los Locos del Parque, they have been working relentlessly to bring the park back to life with their own time and effort. Past governments have left the park in a very serious situation. In one of the corners of the park, there is an outdoors auditurium and it was in a very bad condition, it was full of grafitti and most of it was painted black, a perfect place for kids to drink alcohol and do drugs.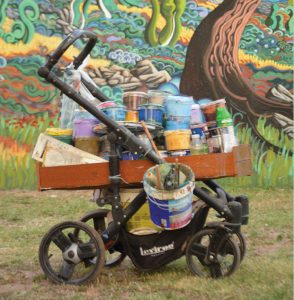 We created a campaign to get sponsors and also to bring anyone that wanted to collaborate in this endevour. At that time I was working doing marketing in Gibraltar so I had access to companies that could have been interested, meanwhile Los Locos did the same thing but in La Linea. We wanted it to be a project of collaboration from both sides of the border. This also brought atention to the cross frontier group of companies, which later on came and did an aware event before brexit happened.
A mural that brought brightness to a dark area of the park.
T he project started and we managed to get 100 euros from each of the sponsors, half from Gibraltar and half from La Linea. I created a basic concept that could be done by many people, like painting by numbers. The idea was to do a representation of La Linea and Gibraltar and its sourroundings. I divided the wall in half, so the sea and the land would hava a balanced amount of space. We live in th land of the wind so I wanted to show movement in most parts of the mural.
I wanted to do a symbolic metion to the altruistic group of Los Locos and to any people that helps planting in the world, I added a family of snails with flowers pots on their backs, a representation of artifical planting and the need for it in the world.
Many of the people that came to help were from the international comunity that lives in La Linea and work in Gibraltar, other people were from La Linea, Gibraltar and San Roque, we even had kids adding their bit.
We spent a couple of months painting in 2016. Two years later I came back to finish it, with much less help we managed to get it almost done. Now it's 2020, after a few weeks retouching it we are placing a high quality varnish on top so it will last nicely for some more years to come.
Besides La Linea, Gibraltar and San Roque we also had people from:
Poland, Italy, USA, Bulgaria, Romania, Ireland, England, Scotland, Rusia and Belgium.
Dedicated to the memory of my dear parents and my dear friend Ian Prescott
Thank you to all the Sponsors
Ian Prescott | Asociación de Hosteleros | Anglo Hispano | People Snack Cafe | MH Bland | Centro Pro-color Godoy | Pinturas Juma
Thank you to all that colaborated in this great project
2016
Susanna Pinna, Padma Cara, Eyleen Sheil, Omowale Simon, Fabian Valerga, Aleksandra Paukszta, Christina, Gloria Cadiz, Katerina Kennedy, Niall Kennedy, Mandy Gaggero, Ian Presscot, Claudia Schiel, Rafael Cerha, Inma Ortega, Alfonso Llorente Sanchez, Clarita, Aleksandra Kisly, Jesus Parody, Wesley Grom, Monica Candelaria, Parick, Águeda Ortega Moreno, Julie Sara, Sergio Ríos Huérfano, Jan Hordley Power.
2018
Paulina Sadowska, Michele Milaca, Eva Saranova, Lukas Kroczack, Agnieszka Kamo.
2020
Natalia Szynkiewicz, Jemima, Davinia, Ioanna, Eva Saranova.
Ania Kolesnik
Ania spent many hours at the mural the fist year. She was the force and the enthusiasm behind this project. I'm not sure I would have been able to do this mural without her.
Antonia Popova
Antonia is an artistfrom Bulgaria. She spent many hours at the mural where she created the amazing flamingos flying.
Arte Caballero | iodel | Jorge Caballero | Arte Campo de Gibraltar & Gibraltar  | Costa del Sol | Costa de la Luz | Flamenco & Danza | Surreal Golf | Music